Choosing a Precision Pulse Delay Generator
December 11, 2020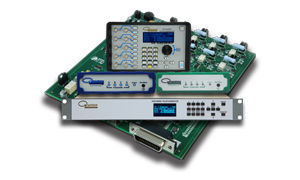 Looking for a synchronizer that matches your unique project requirements can be a challenge. High-performance test and measurement equipment is an investment, so you'll want to be confident in the product specs before purchase and integration. Digital delay pulse generators come in many different form factors, with a wide range of spec's and options. Given the choices on the market, it's important to closely compare the key differences in the makes and models to make the right purchase.
Timing Resolution
Width, delay, and rep rates are key factors in precision timing. Look for a resolution up to250ps to give you maximum control and flexibility. For greater detail on width and delay restrictions and how those settings affect the channel output, read the technical guide.

Jitter
Jitter measurements are used to quantify timing performance. While different measurements can be used for individual types of jitter, the root mean square, or RMS, measurement relies on a Gaussian distribution and displays a standard deviation. This calculator from Silicon Labs helps convert phase noise into jitter values. Depending on your application, low jitter is not always needed but if low jitters are needed then there are many options available.

Pulse generators at a glance:
Other Features or Options: Standard; up to 8 independently controlled outputs, USB & RS232; channel muxing, virtual channel. Optional; optical input & outputs, 35V and 45V, Dual Trigger, Ethernet, High Impedance matching
View these additional resources for more on pulse generators:
*Units as compared to similar industry products such as Highland Technologies and Stanford Research Systems. View our webstore for instrument pricing or request a quote for a fully customized solution.