Top 8 Questions About Pulse Generators
November 12, 2020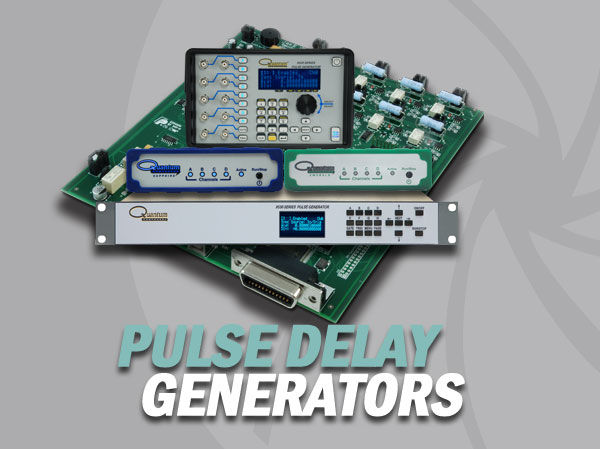 What should I look for in timing resolution, jitter, and rep rates?
Looking for a pulse generator that matches your unique project requirements. Our instruments are fine-tuned to meet a wide range of specifications:
2, 4, and 8 channels

Resolution from 250ps to 10ns

Accuracy (width and delay) from 1ns to 10ns

Jitter (channel-to-channel) from <15ps to 400ps RMS jitter

Rep Rates from 5MHz to 25MHz
Pulse generators at a glance:
What if I need more than eight channels of timing?
Multiple digital delay generators can be synchronized together by tying the output clock from one unit into the clock in of the 2nd unit. If you need to reduce your footprint, custom units can be considered as well. Send us a note and we'll get right back to you.
How do the pulse generators plug into a PC, or is wireless available?
Our standard configuration for communicating with most units is RS232 and USB. We have options for Ethernet and GPIB as well. Our benchtop and rackmount units can be programmed via the front panel or via PC. Our Sapphire series are not only programmed via USB but are also powered by USB, making for an easy to move and compact unit. The Emerald and Sapphire series each have optional wireless / Bluetooth capabilities where you can remotely control units.
Can I clone the settings between two delay generators?
Yes – it's a great way to save time. To do so, you'll need the appropriate .iqf (instrument query file) for your unit and the communications terminal software. After the software install, you will need to make sure that communication is established with the pulse generator. This technical guide walks you through the process.
Can I rent a pulse generator before making a purchase?
We do have a rental program for most units if you need is limited in time. We offer a 3-month minimum program to meet those needs. We understand that many projects and applications are very unique and you will want to ensure the instrument fits into your setup and matches the desired outcome. For cases like this, a 30-day demo period can be offered to Reach out to us to help make sure the unit meets your needs.
Is channel multiplexing available?
The channel multiplexing function (MUX) is a unique feature of our pulse generators and is available on each model from the 9200 to the 9520. The MUX operation and setup are identical across the different product lines. Check out the Channel Multiplexing Technical Guide to see how it works.
What is the Recall 0 function on the pulse generator used for?
If the unit is exhibiting unexpected behavior, no output, or if the output is not what it should be, the first thing that should be done is to recall the "0" memory location. The "0" memory
location is a non-editable memory location that contains the factory defaults. Loading this memory location will reset all user-defined output settings back to the original factory default settings including:
System mode

Channel mode

Channel width and delay

Period, trigger, and gate settings

Channel output voltage
On most units, the unit will default back to a continuous system mode with a channel width of 1us and a period of 100us. The output voltage setting will default back to TTL (5V) active high output. Recalling the default settings will not reset the Baud rate or GPIB address. Read more in the troubleshooting technical guide.
Can I integrate the pulse generator into a larger system and control the overall system power from a single point?
Yes. The 9520 and 9530 series pulse generators incorporate two switch controls: a true AC cut-off switch (located on the rear of the unit) and a standby power switch (located on the front panel). For customers wishing to power on the unit purely by controlling the AC mains voltage, a stand-by button by-pass jumper needs to be installed on the unit mainboard. Follow these step-by-step instructions.
We're Ready to Help
If you still have questions, See our technical guides and troubleshooting tips for more detail. If there are any questions about how any of our units operate or if there are special requirements for your project, simply contact us – we welcome the opportunity to help.