Partnering with Millennium Dental Technologies to Build 200 Laser Heads to Meet Dental Laser Demands
March 15, 2022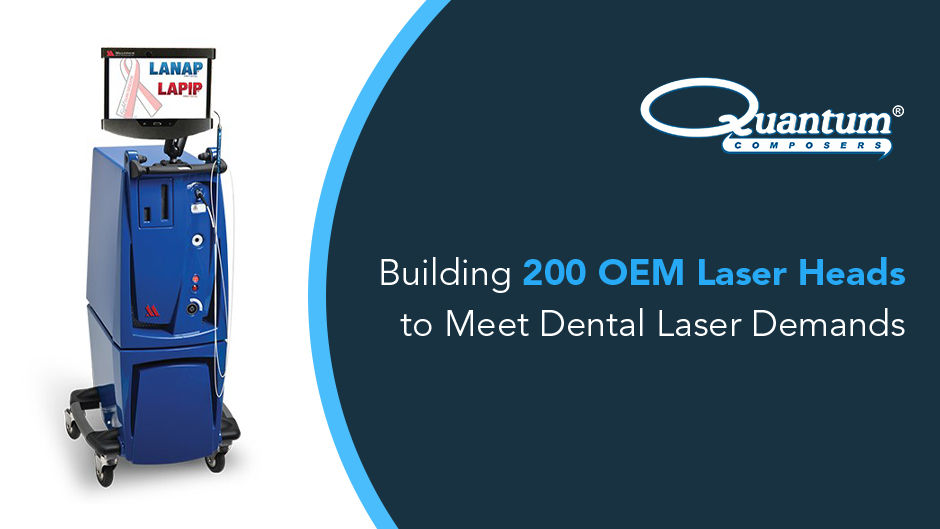 To meet the needs of the growing dental laser market, Quantum Composers is manufacturing over 200 1064 flash lamp lasers for Millennium Dental Technologies, Inc. (MDT), a leader in regenerative periodontal therapy. MDT, founded by Robert H. Gregg II, DDS, manufactures the PerioLase® MVP-7™ to perform minimally invasive dental procedures, including the LANAP and LAPIP protocols, that replace conventional scalpel and suture surgery. The LANAP procedure is cleared by the FDA as the first patented periodontal protocol.
To double their production, MDT was searching for another source to manufacture their laser heads. Quantum Composers offered the quick turnaround and USA-based manufacturing that MDT required.
"Given market demand for the PerioLase® MVP-7™, we wanted to find a partner who could quickly engineer and produce the laser heads and had the capability and willingness to expand," said Renee Schrader, VP of Sales and Operations.
Working closely with MDT, Quantum was able to produce and turn around a 6-watt free-running variable pulsed Nd:YAG dental laser in under a year from initial scope of work to the production of actual units. "MDT was in need of a custom laser system that could easily be integrated, and quickly. Partnering with OEMs is a specialty of ours, and we're proud to help MDT deliver the PerioLase at scale to help improve periodontal patient outcomes," said Will Bomar, VP of Sales.
MDT, Inc and Dr. Gregg are currently in discussions with Quantum Composers about adding a second wavelength for a future application and new laser head – bringing a new innovation to the table.
About Quantum Composers Over its 25-year history, Quantum Composers has become an internationally recognized pioneer in the photonics marketplace with the design and development of precision pulse generator lines and as a provider of custom lasers and laser systems for micro-machining, aerospace, research, and medical applications.
About Millennium Dental Technologies, Inc.
Millennium Dental Technologies, Inc., is the developer of the LANAP protocol for the treatment of gum disease, the LAPIP protocol for ailing dental implants, and the manufacturer of the PerioLase MVP-7 dental laser. By providing a simple and comfortable experience with unique bone-building clinical results, MDT's FDA-cleared LANAP protocol removes the fear from gum disease treatment, offering a vastly less painful and less invasive regenerative treatment alternative to conventional surgery. The company's founding clinician, Robert H. Gregg II, continues to operate the company with the vision: To create better clinical outcomes in periodontal disease patients—remaining true to the guiding principle—"It's all about the patient."