Laser Systems for Space Applications: A joint project with MDA and Quantum Composers
April 21, 2021
An Interview with David Jones, Technology Strategy Lead, MDA UK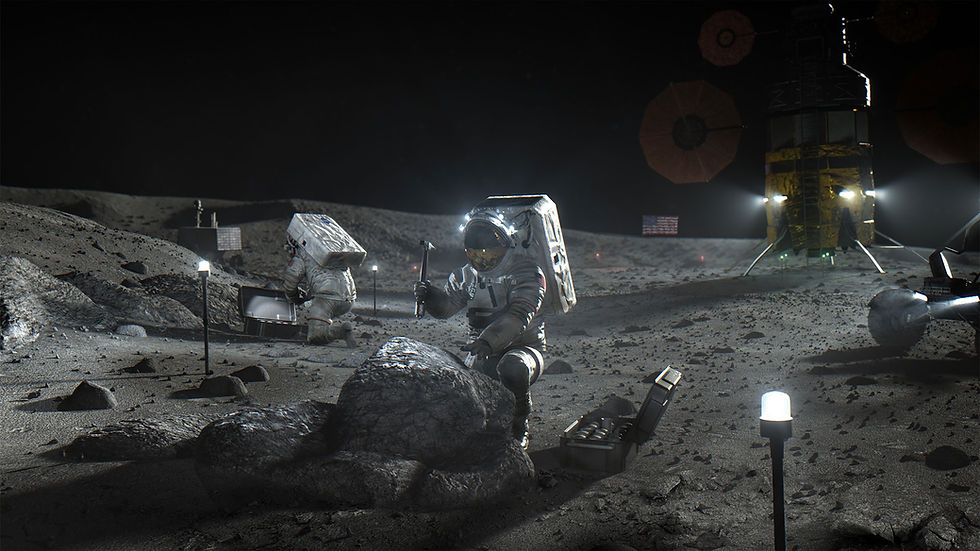 Quantum Composers has been supporting Dr. David Jones of MDA by providing a laser to meet the demanding requirements of a rangefinder for use in space. The initial project is tied to the efforts of NASA's Commercial Lunar Payload Services, a program delivering cargo to the Moon through the Artemis missions. The laser range finders will be used to detect location to the Moon to assist in landing procedures.
How did your work with Quantum Composers begin?
A prominent goal for our company is to lead the charge towards viable Moon colonies. As a part of this, we have developed a sensor that can help spacecraft estimate the distance from the Moon to assist in landing procedures. The lasers for this technology needed to be highly accurate as well as able to withstand extreme operating conditions. It can be expensive to go down the road of creating a specialized laser, so we decided to choose four possible laser solutions and begin testing for our key requirements. From Quantum Composers, we chose the MicroJewel, which looked to be the strongest option just from the datasheets. As we got into testing, the technology proved itself to be the most successful of the four.
What parameters were you testing for?
Since this was a space mission, thermo testing and radiation tolerance were key. We couldn't consider anything that wasn't capable of effective operation from -10° – 40°C. While we are continuing to test further, Quantum Composers met this initial requirement.
The radiation tolerance test removed a couple of the other options we had looked at. The MicroJewel passed and the system maintained the required accuracy. Only one other system we tested could pass the radiation tolerance test, but it didn't offer the same level of accuracy and was also much larger.
How does size impact the laser system you could choose?
Size and mass are incredibly important. Compactness is certainly important for ease of integration to the spacecraft, but we must be sure to keep mass down as well. Especially in space where every extra kilogram costs money.
Are there other aspects of the Quantum Composers laser that will allow you to maintain accuracy and reliability?
The landing procedure of the spacecraft will rely on the system being very accurate, so this is essential for us. The Quantum Composer's MicroJewel can create short pulse widths to achieve high power and accuracy.
Another component of ensuring accuracy is within the packaging of the system. To ensure that the laser range finder could maintain high performance even through vibration and shock, we needed to focus on a robust electronics housing. After reviewing these requirements with Quantum Composers, their team worked with us to ensure this was possible.
What was it like working with Quantum Composers?
Through this customized update and throughout the entire project, their team has been very responsive. It is difficult to find a product robust enough to survive the harsh space environment, and even more difficult to find a company that will work collaboratively with you to meet your requirements and deadlines. We found both in Quantum Composers.
Are there future projects on deck that the MicroJewel can be used for?
Quantum Composers' products and capabilities are well-aligned with both our current and future projects and we look forward to the possibility of continuing this great partnership.
The MicroJewel pulsed, diode-pumped solid-state Nd:YAG laser is compact and conductively cooled with a fundamental output of 1064nm. Available as a standard or customized system, the MicroJewel is a lightweight, multi-mode laser with a small footprint, making it perfect for applications with limited space. Let the Quantum Composers team help you find the right laser for your application. Request a demo of the system today.
About MDA Space
Serving the world from our Canadian home and our global offices, MDA is an international space mission partner and robotics, satellite systems, and geo-intelligence pioneer with a 50-year story of firsts on and above the Earth. Today, we're leading the charge towards viable Moon colonies, enhanced Earth observation, communication in a hyper-connected world, and more. Together with our many intrepid partners, we're working to change our world for the better, on the ground and in the stars. https://mda.space/en/