Quantum Composers New Line of Compact Piezo Laser Modules
April 4, 2018
(Bozeman, MT – March 28, 2018) Quantum Composers, a leading manufacturer of lasers and systems, is pleased to announce the release of its new compact, high-precision line of piezo laser modules for ablation applications. The new line contains a series of compact commercial and OEM modules which include an attenuator, X-Y aperture, rotating waveplate and filter wheel.
These piezo laser modules are the result of customer demands for smaller, lighter, and more cost-effective beam delivery components. The use of the piezo motors creates faster adjustments for a higher level of precision. "The new laser components build on Quantum's already proven reliability, they are the perfect building blocks to get whatever system configuration customers have up and running quickly", said Will Bomar, Director of Sales & Marketing.
These compact modules were designed for lasers in the 1064nm range with tact times under one-second and a damage threshold of 5 J/cm2. Each module has a 20mm beam height. With no standard module larger than 45mm, the size makes these perfect for researchers wanting to create smaller systems or test beds. The modules are easily controlled via USB or RS232 and custom solutions are also available for more specific applications.
Designed by engineers with 30+ years of design and manufacturing experience in the photonics industry, these new system components make the development of laser systems faster and easier than ever before and are available for order now at quantumcomposers.com.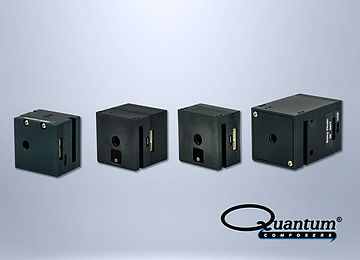 Piezo Laser Modules Features:
- Compact Size & Packaging
- Fast Tact Times <1s
- Damage Threshold: 5 J/cm2
- 2 Year Warranty
- Full Customer Service & Support
About Quantum Composers:
Quantum Composers was founded in 1993 in Bozeman, Montana, an already accelerating high tech center for electro-optic startups. Over the last 20 years, Quantum has become an internationally recognized pioneer in the photonics marketplace with the design and development of a precision pulse generator line and as a provider of custom laser systems for micro-machining applications.
To learn more about the Laser Modules, please visit us on the web at www.quantumcomposers.com Please direct any questions to Erin L. Prieskorn, Marketing Manager, at 406-582-0227 Ext122.