THE 9730 SERIES HIGH CURRENT PULSE GENERATORS FROM QUANTUM COMPOSERS
November 11, 2016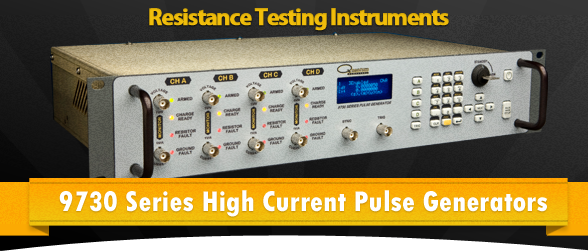 Quantum Composers' 9730 High Current Pulse Generator provides a precisely timed solution to resistance testing. The unit supplies current pulses with adjustable width (200ns timing resolution), delay, and amplitude (up to 6A per channel) combined with the ability to be externally triggered and to provide a sync output to other testing equipment. An integrated 4-wire approach provides pre and post test resistance measurements while programmable mean, upper, and lower tolerances allow rapid detection of resistance faults.
9730 High Current Pulser Specifications
9730 Series Specs*
Timing Resolution
200 ns
Amperage
6 amps per channel
Output Channels
2 or 4 independent channels
Memory Storage
12 slots
Safety Features
Interlocks and keyed front panel
Remote Programming
RS232, USB & Ethernet ports
Resistance Measurement
(4 wire) for each channel with pre/post testing features
Additional Specs
TTL synch output to T0, front & rear external trigger inputs, current and voltage monitors.
Warranty
Full 2 year comprehensive warranty
OEM & Custom Units Available