DIGITAL DELAY PULSE GENERATORS FOR SYNCHRONIZATION OF SYSTEMS
May 3, 2016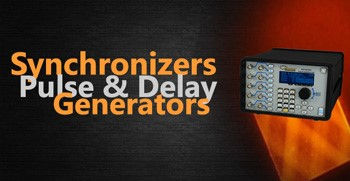 Quantum Composers is a leading manufacturer of Digital Delay Pulse Generators, DPSS Lasers and Laser Systems. We offer a full suite of electro-optics and laser components designed to meet the needs of any application and have a team of design engineers who specialize in custom and OEM development.
DIGITAL DELAY PULSE GENERATORS FOR SYNCHRONIZATION OF SYSTEMS
High speed data collection in imaging applications requires precision delay control, synchronization, and gating to external devices to record events correctly. The Increment option, which provides incrementing delay times and pulse widths after each trigger or internal burst count, is a useful option. The channel reference feature is an effective complement adding flexibility when using multiple interrelated timing signals.
FEATURES -2-8 Independent Channel Outputs - A variety of program modes: Multiplexing, Burst, Duty Cycle, Channel Referencing.
MORE ABOUT SYNCHRONIZING IMAGING SYSTEMS
In general, during high speed digital video or photographic acquisition, these devices need to be actuated at particular times to record an event. If a mechanical device is activated it can frequently be a source of unwanted vibration. Assigning a delay to the image integration after mechanical noise has subsided can be critical for high resolution imaging and microscopy studies. Being able to control the timing and sequence of light sources, camera integration, and mechanical devices is fundamental to the development of world class imaging techniques.
APPLICATION PAPERS FROM QUANTUM COMPOSERS CUSTOMERS
SPECTROSCOPY: GOTTINGEN UNIVERSITY
PLASMA DIAGNOSTICS: NORTHWESTERN
PIV: GERMAN AEROSPACE CENTER
Using our Digital Delay Pulse Generator
Using our 9528 Digital Delay Pulse Generator
Using our 9528 Digital Delay Pulse Generators
Contact us at sales@quantumcomposers.com for more information!