QUANTUM COMPOSERS ATTENDS ANNUAL HOPE AND THE HOLIDAYS GOLF SCRAMBLE
September 30, 2015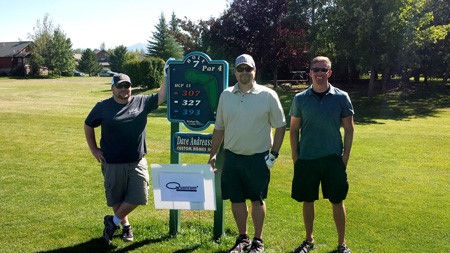 Every year Quantum Composers attends the Hope and the Holidays Golf Scramble at the Bridger
Creek Golf Course in Bozeman, MT to help support the Hope and the Holidays organization in assisting needy families during the holidays.
Hope and the Holidays is an organization comprised of the American Legion, Marine Corps, Lions and Kiwanis. Year-round they give assistance to children and families by providing them with toys, food, clothing, gifts and more. In 2014 they were able to provide 625 families with food baskets and 1,741 children with gifts.
A few select engineers represent Quantum Composers every year at the Golf Scramble to have some fun and raise funds for this wonderful organization. Lookin' good gentlemen!
Find out more about Hope and the Holidays: http://www.hopeandtheholidaysmt.com/